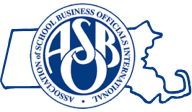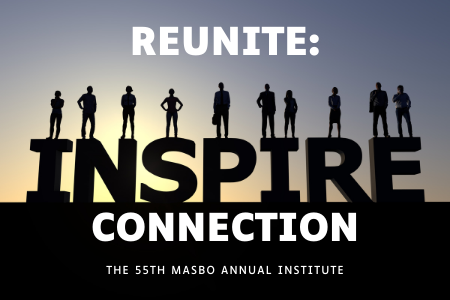 On-Demand Sessions: May 12-June 30
Massachusetts Association of School Business Officials, Inc.
Affiliated with the Association of School Business Officials International
Hello MASBO Colleagues!
I am excited to introduce the Annual Institute (AI) experience we have prepared for you this year. The theme Reunite: Inspire Connection is all about coming together in person, in shared professional goals, and shared experiences. We will share laughs, emotional moments seeing each other in person for the first time in over a year; and learning and expanding our professional skills and knowledge. Thus, the AI Committee is offering live interactive sessions each day, recorded concurrent sessions with asynchronous interaction, and special in-person or remote reunions with colleagues hosted by our regional roundtables; ultimately, making connections with colleagues and content.
This "WOW Envelope" provides you with almost everything you will need to get maximum benefit from this year's Institute. Use the raffle ticket for our drawings at the end of the Keynote & Live General Sessions; and there is a journal for you to keep your notes, revelations, and future planning ideas. Your registration has provided you with the book, What You Don't Know Is Hurting You: 4 Keys to a Phenomenal Career. Marion E. Brooks, author, is our Keynote speaker and will be offering a live virtual book group discussion Wednesday. Thursday, his live address will allow readers to level up and extend their learning. On Friday, Jeff Riley, DESE Commissioner, and many of the DESE staff leads will be updating us on what we need to know in anticipation of opening school in the fall. While the majority of sessions will be pre-taped, they are available on opening day with asynchronous opportunity to connect over the three days! The AI Committee encourages you to take the days and be ALL IN at MASBO. And YES, for those MASBO AI die-hards, we even have eggs this year!
For those of you who don't know, let me connect you to a decades-long joke at the AI: eggs at breakfast are not always a given. If the menu doesn't have them, the President-Elect historically has been good naturedly hazed and harassed. So, in keeping with tradition and humor, I am providing you with a special edition MASBO Egg that can be used for:
Rehabilitative therapy of hand injuries
Lifting fingerprints
A drumhead resonance damper
Wrapping around a pencil and use it as a grip
Practicing juggling
A thumb cover
Opening a twist-top bottle without hurting your hands
Therapeutic stress reduction
We hope you enjoy the content and connection of this conference. I invite each of you to inspire connection and reunite with MASBO members and our Solution Providers. We look forward to seeing you in person soon.
Be Well. All is Well. Ever Grateful.
Mary Ellen Normen, MASBO President-Elect and Annual Institute Chair
| Access Date | Quiz Result | Score | Actions |
| --- | --- | --- | --- |
To Begin
Please log in above using your MASBO login credentials. To view sessions, hover your mouse over Live Sessions or On-Demand Sessions and click ENTER.
If you have not yet registered for the FY21 Annual Institute, please register here.